We believe in transparency, this is how we are successfully throughout the business relationships we have had in the past and new relationships we will build for the future of Enercom AG.
The workflow for distribution of dividends will look similar to the graphic which we already added to the prospectus.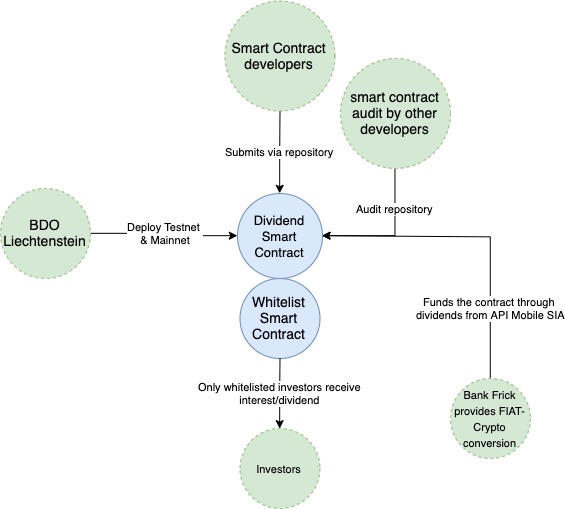 With this setup, we are very confident that we have all professional stakeholders onboarded until end of April so that the distribution of first dividends can happen in May. This is also aligned with our timeline which we have in our prospectus.
Offering will run until the end of March (subject to change depending when FMA Liechtenstein will approve prospectus)
The Enercom Token itself will be issued until end of April
Then we plan another 1 month to make sure that the dividend distribution will work as efficient as possible so that every investor can get their fair share back for their trust to make the offering a great success

Overview of the complete whitelist, contracts, processes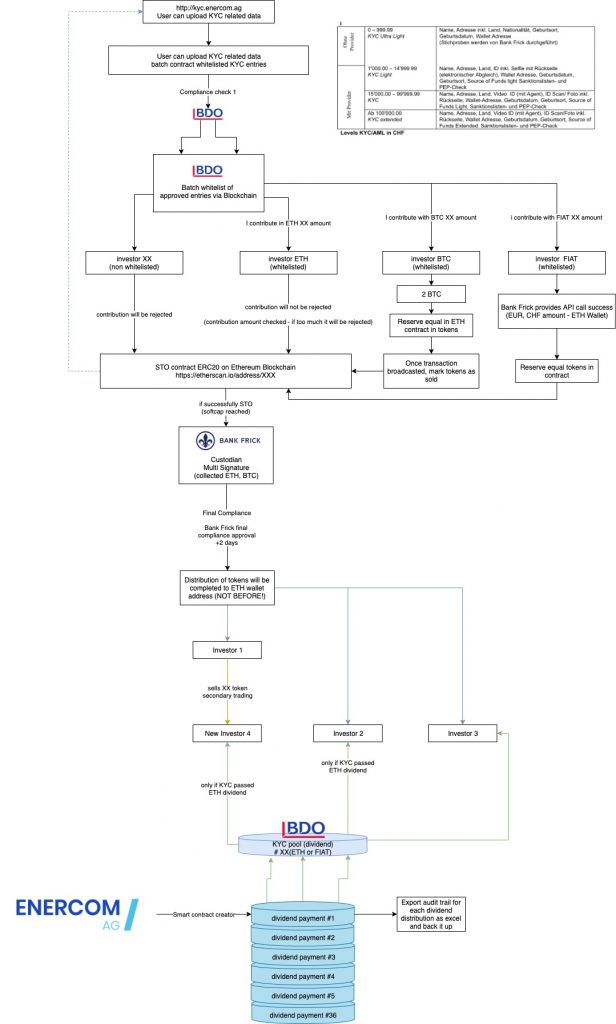 The current dividends are accumulated within the business account of API Mobile SIA you can always find out more about API Mobile here. Those dividends will then be distributed towards the holding Enercom AG (once the sale of API Mobile to Enercom AG is successfully done) with the successfully raise of the Enercom Token we will also use part of the use of proceeds to purchase Rapsoil SIA to make sure that further dividends for our token holders will be sustainable beside the API Mobile SIA dividends which have a great potential to increase due to highly experienced management and team players within the new potential subsidiary API Mobile SIA. We will be able to further work on the project of Rapsoil SIA to make sure all the groundwork will be finalised to achieve a way for future partners to easily access the project and start creating value to buy and build the wind turbines so that revenue is generated with producing energy and sell them to the grid with a potential power purchase agreement with Nordpool Group or any other potential buyer. If you have any questions about our business model, or how we plan certain things beside some details of the prospectus feel free to reach out to us so we can make sure you fully understand what we want to achieve in the future and do our piece for a better tomorrow for our children and grandchildren.
[email protected]
Or reach out via phone